Fun family activities that will ensure the Most Incredible Family Christmas in the Eternal City
The problem for families travelling to Rome is not what should they do…but rather how to select the best thing to do from a very long list wonderful activities and places to visit! Here we represent our absolute favourite, must-do family actives to make your stay in the Eternal City even sweeter!
1 – Shopping spree
Window Shopping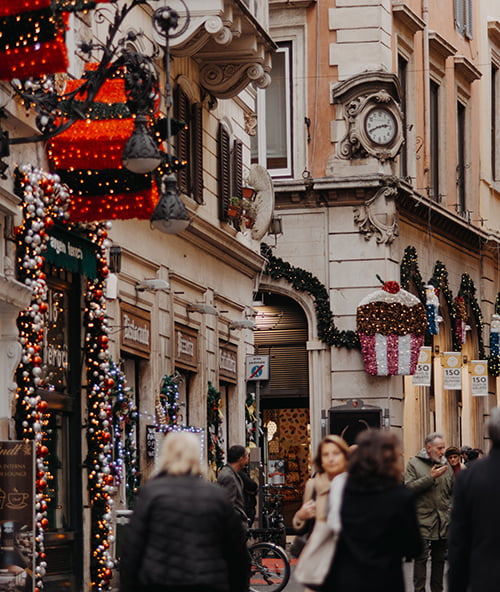 The two main shipping streets in the city centre of Rome are Via del Corso and Via dei Condotti. On Via del Corso, which connects the famous Palazzo Vittorio Emanuele to Piazza del Popolo, you will see is familiar brands like H&M and Diesel, alongside other stores that are more commonly seen in Italy, like Yamamay, Boggi Milano, Galleria Alberto Sordi, and so much more! Via dei Condotti is a little bit more ritzy! It can be compared to New York's 5th Avenue or London's New Bond Street, just with a lot more charm, and delving into one of the most beautiful staircases in the world – the Spanish steps! At the top of the Spanish steps – should you decide to venture up those many steps (and count them on the way up!) – you will find the Trinitá dei Monti Church, which is definitely worth a visit! Here you will find fancier brands like Louis Vuitton, Gucci, Michael Kors, Bulgari, Alberta Ferretti, Jimmy Choo, Cartier and many others.
Sermoneta
For the mommies reading this blog post, this is your chance to get a luxurious pair of hand-made Italian leather gloves while in Rome! Maybe 'accidentally' forget your gloves at home, so you have an excuse to splurge while in chilly Rome. Sermoneta has become one of the best-known names in gloves today. You can even personalise them with unique style, feel, colors, and even an embossed stamp!
La Rinascente
Shopping is an essential part of your Roman Xmas experience. La Rinascente is a great place to shop for clothes, or simply just to get away from the cold after a pleasant but long stroll around the city centre. This American-style, high-end, luxury department store has all the brands for men, women and children, and features many floors. Here you will find brands like Gucci, Fendi, Michael Kors, Swarovski, Tod's, Stone Island and Lacoste. A new Rinascente has just opened between the Spanish Steps and Trevi Fountain on Via del Tritone, and boasts a rooftop terrace and gourmet food court. 
Sempre Natale
One of the most interesting shops that you will probably ever go to is called "Sempre Natale," which literally translates to "Always Christmas." Well, if that isn't a catchy shop name, then what is? This shop is located on Via della Scrofa in Rome, where you can find unique, sometimes humorous, ornaments to gift your family back home. It is famous for its hand made glass balls that are no sought after, that they are shipped all over the world!
Castroni is another wonderful place to indulge in your wildest food fantasies!
Castroni
From floor to ceiling, Castroni houses some of the most unusual and unique  international ingredients that you wouldn't find in a normal grocery store. This place is a literal heaven for food lovers. This magical place will feed the gourmet foodie in you and we assure you that it is the optimal destination for Christmas food gifts! Castroni also features an Italian produce section that will make your mouth water! Here, you will find everything from  biscuits, tea, chocolate, spices to pizza, and so much more!
If you and your family are more outdoorsy people, then you should have a look at the Christmas markets…but that is a conversation for later (sneak peal at section 4, if you cannot wait!)…
2 – The Holy Trinity of Christmas Trees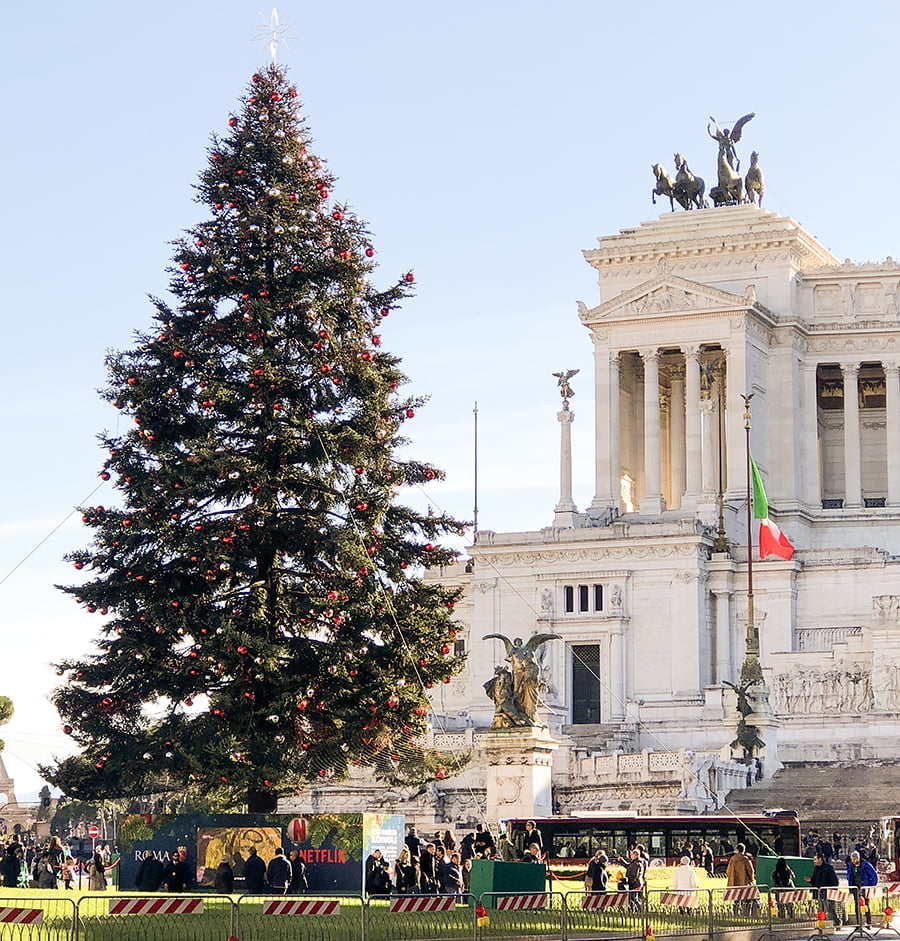 Interesting fact: Christmas trees are not an Italian tradition. Indeed, it is believed that the origin of Christmas trees comes from Pagan tradition, as early as the fourth century C.E. However, despite Christmas trees not being born in the area, us Romans have most certainly acquired a passion for it! You will spot trees in hotel lobbies, shops, restaurants, and sometimes even at the entrance of supermarkets!
There are three enormous Christmas tree displays scattered across the Eternal City. The fun part for you and your little ones will be to find these and to find the most scenic and most ornately 'Christmas decorated' route as you move from one to the other. The first is in front of Saint Peter's, standing majestic in the middle of the round square. The second must-see tree is the one set up in Piazza Venezia, and finally you cannot miss the one next to the Colosseum. If you're a passionate tree hunter, then maybe also check out the trees in the area in front of the Museums on Capitoline Hill and in front of most churches!
3 – Nativity, Nativity, Nativity!
Italians take their nativity scene very seriously! Indeed, few things describe Italy at Christmas better than nativity scenes. To start, Nativity is called "Presepe" in Italian. If you aimlessly stroll around the city and magically find your way to churches, bakeries or display windowd, you will see presepi everywhere around the holidays.
St.Peter's Square nativity scene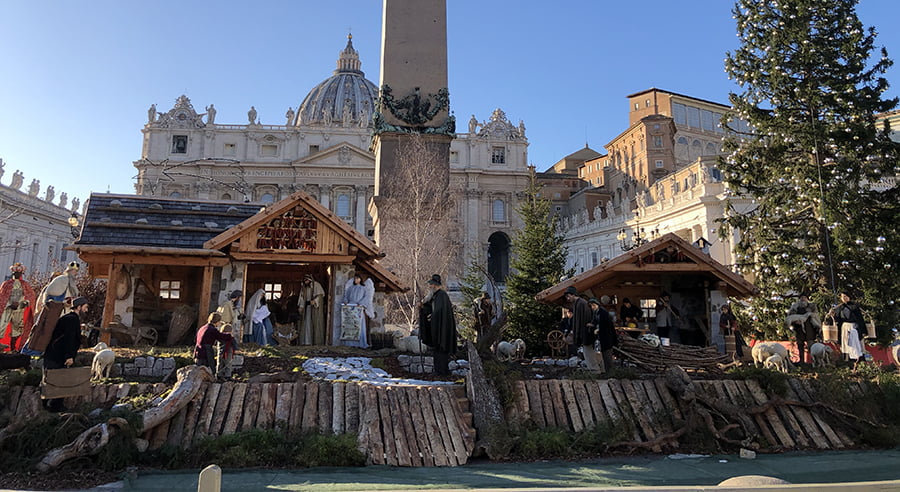 An impressive, life-size display is found in St.Peter's Square, right next to the Christmas tree, which we mentioned in point number 2. This is probably the most touristic nativity scene, but it is definitely worth it to have a look at it, simply for the mere size of it and for its unbeatable location!
100 presepi
This is a special annual event that displays traditional nativity scenes from all over Italy and other parts of the world. It is held in the Colonnade of Saint Peter's Square, which makes the whole experience even more spectacular! You and the little ones can decide which one is for favourite! How fun! There are so many to choose from…why don't you guess how many nativity scenes are on display?
Basilica di Santa Maria Maggiore nativity scene
The Basilica di Santa Maria Maggiore is said to have the oldest permanent Nativity scene. This is probably the most unique Nativity scene you will every lay eyes on, as it was carved in marble by Arnolfo di Cambio in the late 13th century, a commission for the first Rome Jubilee held in 1300. The first Christmas Mass was said to be held in Santa Maria Maggiore. An interesting fact about this place is that, on the start of Christmas Day, at midnight, the bells above the altar are rung, and it is believed that that action signifies the official start of Christmas.
Church of Saints Cosma and Damiano nativity scene
Another wonderful place where you can admire a Nativity scene is the Church of Saints Cosma and Damiano! This chuch is located above the Roman Forum! It is said that this Nativity scene was commissioned by Charles III of Naples. What makes this Nativity scene special is that it includes not only religious figures but also intricate figures of people from everyday life. Legend has it that six master woodcarvers worked on the scene for 40 years, and kept adding new figures every year. This nativity scene was eventually moved from Naples to Rome in the 30s.
4 – Visiting the Christmas Markets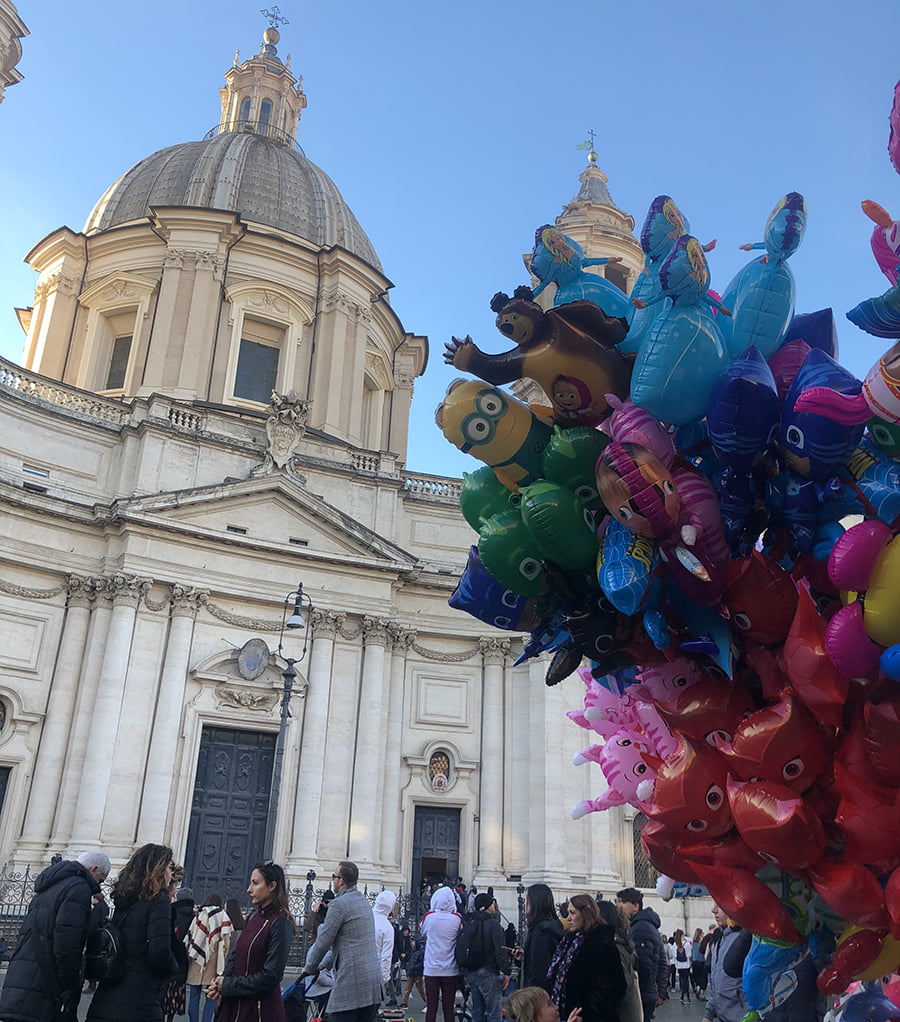 The Piazza Navona Christmas market is the place to be when you and your family are craving a proper cheering up. The adults can relish the muted wine, while the little rascals can race around the stands – of course, under parental approval and supervision! – deciding which sweets tickles their fancy most! The stands in the Christmas markets tend to contend the most beautiful and colourful decorations, making the entire experience enjoyable and entertaining! There will be many vendors selling the ornaments of Befana, the Italian Christmas witch. These figurines are particularly Italian as are the figurines for nativities, which many households recreate in their homes at this time of the year.
But let's be practical. The goal is to have happy kids, and this is the perfect place! At the Christmas market there are many Christmas actives to keep the kids entertained! From Christmas carousel, to dart games – the Christmas Market is your best bet! Tip: Don't leave without having tried the authentic Italian ciambelle – a big donut covered in sugary goodness!
5 – Get Frosty finger tips at Ice Skating Rink
Finally, here is an additional thing you can do while in Rome with your family for xmas. If you have an extra day I Rome ad you are fed up with the museums and historical talk, and crave a more authentic, local experience, you should go to the Auditorium Parco della Musica, where you ice-skate, munch on roasted chestnuts in your skating breaks and, if you plan ahead of time, even attend one of the Christmas themed musical shows in the Auditorium itself Another ice-skating rink can be found in front of the world-famous Castel Sant'Angelo, where you can do the same things, but in a more central area!
So, here you have it – the best advice on things to do during your family Christmas holiday in Rome!