Where to Find the Best Beaches Near Rome
The Eternal City, Rome, is a treasure trove of history, culture, and cuisine. But did you know that it's also an excellent base for enjoying some of Italy's finest beaches? Indeed, a day or two spent on the coast is the perfect antidote after long days of sightseeing in Rome with kids. And since you're journeying with the little ones, you're in luck – there are plenty of family-friendly beaches near Rome that will delight kids and adults alike. 
Let's look at the Top 10 Best Beaches near Rome!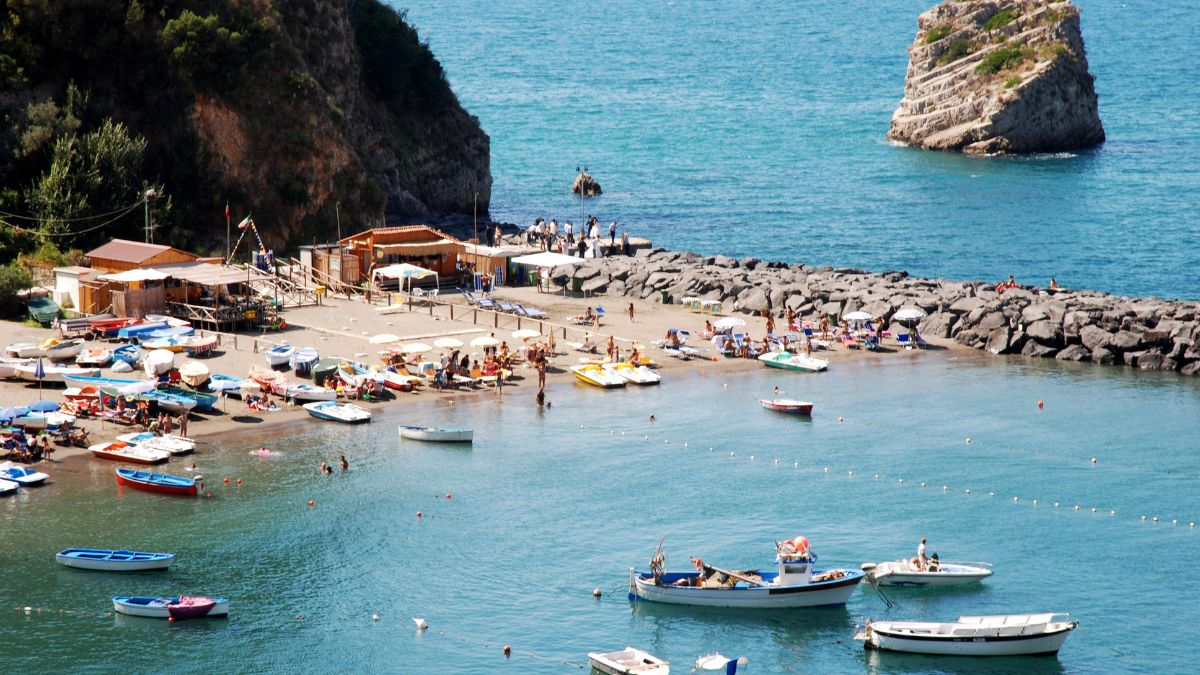 Santa Marinella
Just an hour's train ride from Rome, Santa Marinella is known as the 'Pearl of the Tyrrhenian Sea.' The beach here is sandy and clean, with shallow, calm waters that are perfect for your young swimmers. The promenade is lined with gelaterias, pizzerias and seafood restaurants, offering delightful Italian flavours to satisfy those post-swim appetites. 
How to Reach Santa Marinella from Rome: There are two trains per hour leaving from Termini station for Santa Marinella station and the journey takes about one hour. 
Sperlonga
Sperlonga Beach is split into various sections, some free and some with paid entry, where you can rent sunbeds and umbrellas. Slightly further afield but worth the journey, this picturesque town has white-washed houses tumbling down to a stretch of golden sand. The shallow, crystal-clear waters on the beach are ideal for kids to splash around, while the rocky outcrops are great for your older children to explore. This is a famous spot if you want to snorkel and tour the area on a boat. Don't forget to visit the Archaeological Museum and the remains of Emperor Tiberius' villa – a real-life history lesson for the kids!
How to Reach Sperlonga from Rome: Take the regional train headed to Naples from Termini station and get off at Fondi-Sperlonga. Once there, take the Piazzoli bus for 20 minutes to Sperlonga. You can also take a private taxi if you prefer.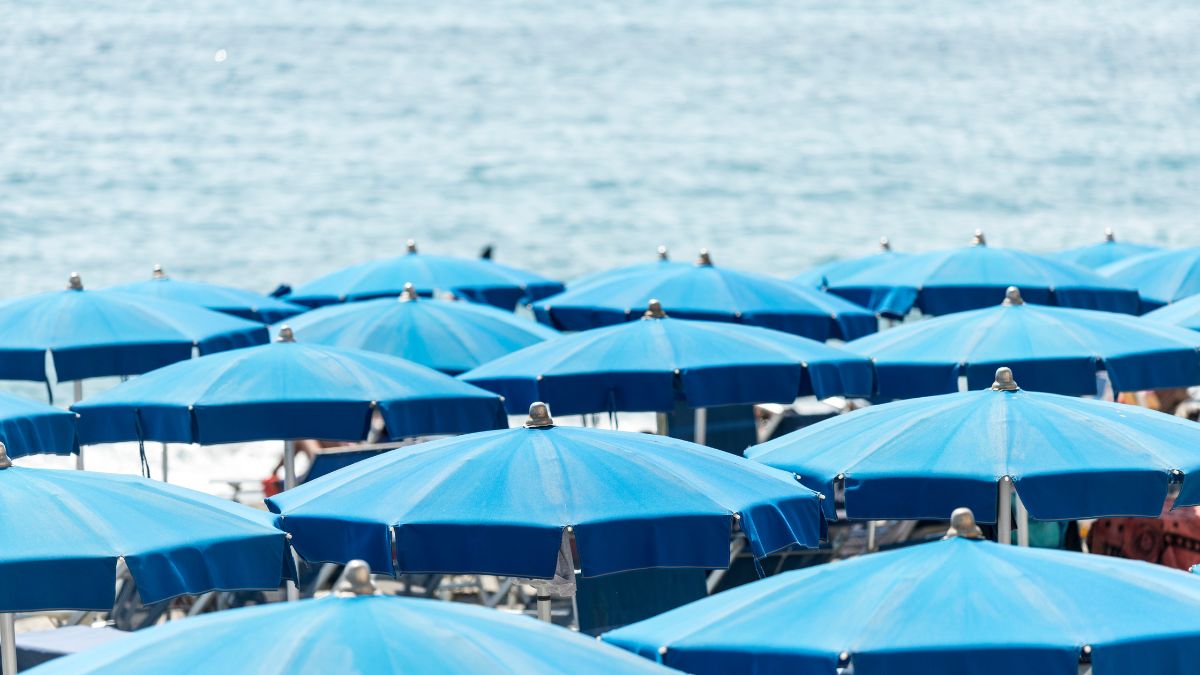 Anzio
Less than an hour from Rome, this beach offers plenty of golden sandy stretches perfect for building sandcastles. Grotte di Nerone is a popular choice for families, with clean, calm waters and soft sand. The nearby town is packed with ice cream parlours and seafood restaurants. If you have any history buffs in the family, they will appreciate the significance of Anzio as a WWII landing site. You can visit the Anzio Beachhead Museum and the American War Cemetery for an insightful side trip.
How to Reach Anzio from Rome: Take a regional train from Roma Termini, the main train station in Rome, to Anzio. The journey takes approximately 1-1.5 hours, depending on the type of train you choose. Trains are relatively frequent, and the route offers scenic views of the Italian countryside.
Nettuno 
Right next to Anzio is the vibrant Nettuno beach lined with colourful umbrellas. Your kids will love the warm, shallow waters, and the soft, sandy beach is perfect for a game of beach volleyball or football. The mediaeval old town close by is a must-visit, with its charming streets and the Forte Sangallo, a fortress that houses a museum.
How to Reach Nettuno from Rome: There is a train leaving every hour from Termini station that takes you straight to Nettuno. The journey takes 60-70 minutes and the beach is about a 10-minute walk from the station.
Ostia
Easily reachable by direct train from Rome, Ostia is a local favourite. The large, public sandy beach is energetic and lively, with plenty of space for kids to run around. If you prefer a quieter setting, you can rent a spot in one of the private beach clubs. A stroll along the promenade will provide you with a choice of eateries, serving everything from pasta to gelato. The nearby Ostia Antica, a well-preserved ancient Roman town is quite hyped up for budding archaeologists. 
How to Reach Ostia from Rome: Public transport takes less than an hour and you can use the same metro/bus tickets for public transport in Rome. Take the 070 express bus from EUR, or the Roma-Lido train from Porta S. Paolo beside the Piramide metro station (line B).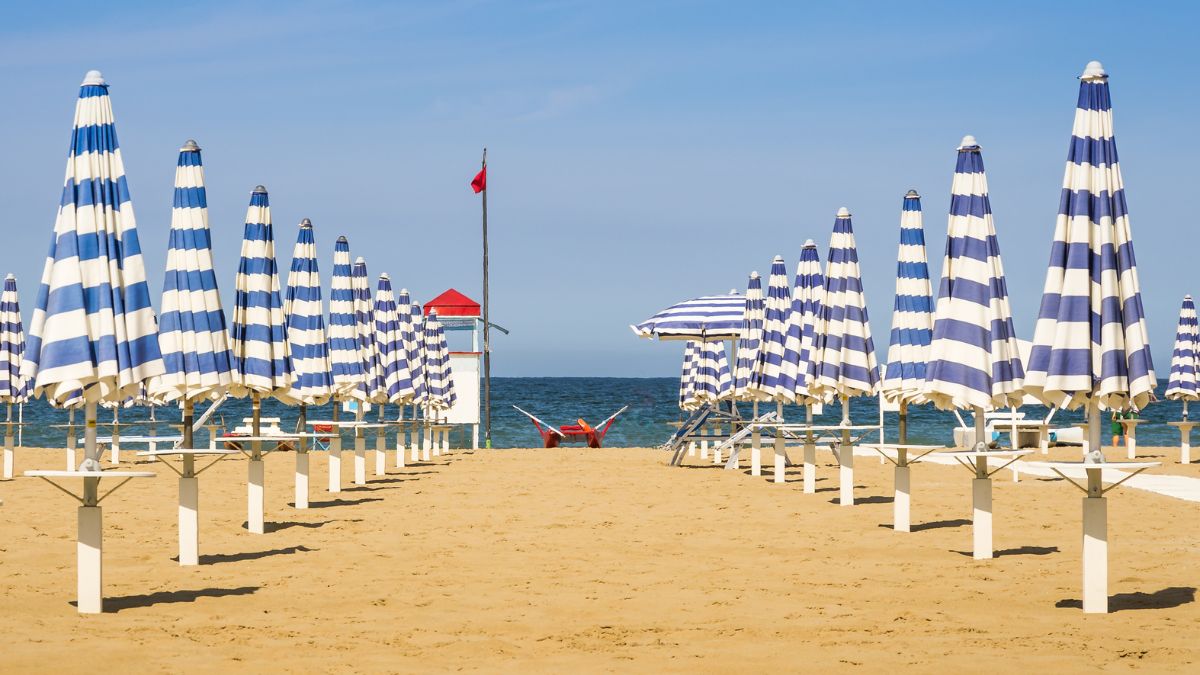 Fregene Beach
Usually popular among the locals who enjoy weekend beach parties, Fregene Beach, during weekdays transforms into a peaceful destination for families. Famous during the 1960s and the 1970s, the golden stretch includes various beach bars as well as free beaches. There are also various family restaurants and cheaper fast food options to enjoy the summer breeze. 
How to Reach Fregene from Rome: Although the beach isn't the easiest to visit by public transport, Cotral buses depart from Rome's Valle Aurelia metro stop (line A) and the journey takes about one hour. By train, you can reach the beach in under 30 minutes. 
Sabaudia Beach
Located in Circeo National Park, Sabaudia offers four kilometres of a wild, untouched beach. The shallow water and lifeguards make it safe for your kids to enjoy the cool waters. The beach also has a diverse flora and fauna offering an exciting opportunity for your kids to connect with nature. A fun fact about this beach is that it is known for its Mussolini-era architecture! 
How to Reach Sabaudia from Rome: Take the Cotral bus that runs from Rome's Laurentina metro stop (line B) to Piazza Oberdan in Sabaudia. From here take the shuttle bus which runs up and down the local coastline.
Terracina Beach
Terracina is blessed with a long sandy coastline and shallow turquoise waters. Located just 10 kilometres to the south of Circeo, this beach is backed by a lively promenade filled with restaurants and gelaterias, making it a hit with families. 
How to Reach Terracina from Rome: Take the hourly regional train for Naples from the Termini station and get off at Monte S. Biagio. From there, take the bus for about 20 minutes until you arrive at the beach stop. 
Santa Severa Beach
A beach is exciting, but a castle near the beach? Even more exciting! With a mediaeval castle backdrop, Santa Severa Beach is a unique beach that your kids will love. Located about 50 kilometres to the north of Rome, the calm and shallow waters are great for kids. A bonus for the kids is the Castello Santa Severa, a short bus ride away from the beach. This mediaeval castle-turned-museum is perfect for an afternoon of exploration and learning.
How to Reach Santa Severa from Rome: Take one of the regular Civitavecchia trains from Rome and the beach is a ten-minute walk from the station. 
Castel Porziano 
Near a crowded city like Rome, could you ever imagine a beach that is hardly touched? Well, Castel Porziano is that gem. Nestled within the boundaries of the Presidential Estate of Castel Porziano, this unspoiled beach offers a serene escape from the bustling city. With its golden sands, clear blue waters, and lush pine forests, it presents an idyllic setting for you and your little ones to relax in tranquillity, enjoying the waves hitting the shore. 
How to Reach Castel Porziano from Rome: Take a train from Rome to Ostia. From Ostia, take a bus or a taxi to reach the beach, which is approximately 14 kilometres away. You can also rent a car and explore the area at your leisure.