Rome with kids – Things to do with kids in Rome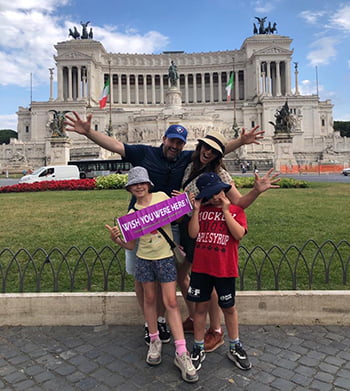 Traveling with your kids and young teens is one of the most rewarding ways to explore Europe! But it can become a tiny bit stressful when the attention span and interest towards paintings, ruins and monuments of the young ones starts to gradually fade.
This is exactly why we have created a wonderful list of attractions and things to do where you can unwind with your little ones after an exciting private tour day of the ancient city, or just to do something a little bit different.
1.PARKS AND PLAYGROUNDS TO VISIT IN ROME WITH KIDS
1.1 Villa Borghese Gardens
1.2 Appian Road
1.3 Cinecitta World
1.4 Roma World
1.5 Rainbow Magicland
1.6 Hydromania
1.7 Zoomarine
2. THINGS TO DO OUTSIDE WITH KIDS
2.1 Slurp a delicious Roman Gelato
2.2 Throw a coin into the Trevi Fountain
2.3 Roman gladiator
2.4 Wander and get lost in the picturesque streets of Trastevere
2.5 Say hello to the kitty cats in the cat sanctuary
3. FUN THINGS TO DO WITH KIDS IN ROME
3.1 Pasta and Gelato Making Class
3.2 Mosaic and pottery workshop
3.3 Draw Roman sight on painting workshop
4. KIDS-FRIENDLY MUSEUM ACTIVITIES
4.1 Tour around the Colosseum and Roman Forum
4.2 Vatican Museums!
4.3 Climb St Peter's dome
4.4 Galleria Nazionale d'Arte Moderna
4.5 Explora, Il Museo Dei Bambini
4.6 Leonardo da Vinci's incredible inventions
4.7 Owl-themed fairy tale house
4.8 Technotown at Villa Torlonia

PARKS AND PLAYGROUNDS TO VISIT IN ROME WITH KIDS
Strolling through the ancient gardens of the city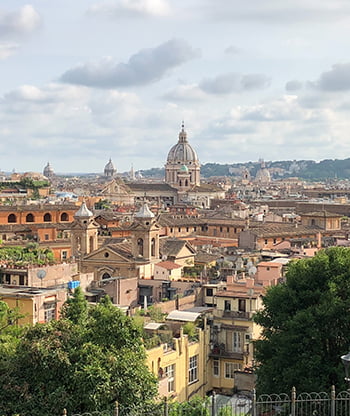 One of the greatest family activities in Rome is to head to the Villa Borghese Gardens, on the Pincian Hill. Located close to both the Spanish Steps and Piazza del Popolo, these huge gardens were once the personal vineyard of Cardinal Scipione Borghese, who in 1606 decided to transform his vast holdings into the most lavish and extensive gardens ever built in Rome.
These beautiful gardens finally became a public park in 1903, and since then Villa Borghese has been a place where people gather together to meet up and have fun year round. 
From the 'Bioparco' to the Temple of Aesculapius, from the artistic works of the Borghese Gallery, to the panoramic terrace of the Pincio and the exquisite Casina Valadier restaurant, up to the films of the Cinema dei Piccoli and the Globe Theatre – a day at the Villa Borghese Gardens – within its 80 green hectares of curiosity – will simply blow you away!
Indeed, if you go for a long stroll in this historical park not only will you see the astonishing building of the Villa Borghese Museums, which hosts the awe-inspiring works of Bernini and many other splendid works of art (if you want to take a peek into this world-class museum, book tickets with us!), but you will also see families, couples and groups of friends having a picnic under one of the many trees, or gently rowing across the lake of the park (the laghetto of Villa Borghese) on little wooden rowboats.
Whether you're looking for a fun day with your kids or want to get away from the museums and huge palaces to view some wildlife in a wonderful environment, the zoo, or 'Bioparco', as the Italians like to call it, located within the Villa Borghese Gardens, has approximately 200 animal species from five continents and is separated into several regions based on the species that visitors are interested in.

Villa Borghese Museum
Opening Times: Tues – Sun 9:00 – 19:00, Monday closed
Piazzale del Museo Borghese, 5, 00197 Roma
Bio Parco di Roma
Opening Times:
January 1 to March 27: 9:30 to 17:00

March 30 to October 25: 9:30 to 18:00

October 26 to December 31: 9:30 to 17:00
Viale del Giardino Zoologico, 20, 00197 Roma
Cycle away on the ancient roman Appian road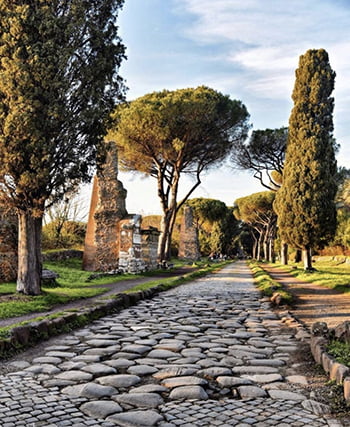 After spending a few solid days touring Rome's must see ancient monuments, museums and open-air relics, a great idea for families with kids could be to go off the beaten path and bike the Appian Way.
Rome, the capital of Italy, is a large and busy city. Cycling safely through the streets of the Eternal City may look like extremely risky business. Indeed, throughout most of the city, traffic and chaos reign in the streets! But, outside of the heart of Rome's hustle and bustle there are many wonderful, more quiet places to visit and explore with kids! 
One of the best things to do in Rome with kids is pedalling the Appian Way, an ancient Roman road that was built by the emperor Appius Claudius in 312 B.C, who named the Appia Antica (Ancient Appia) after himself. The Appian way connects Rome to the Adriatic Port of Brindisi in Apulia (at the heel of the Italian boot) — it is one of the oldest and longest roads of history! The first 16 km (XI Roman miles) are easily cycled from Porta di San Sebastiano in the historical center to Santa Maria della Mole in the city's south.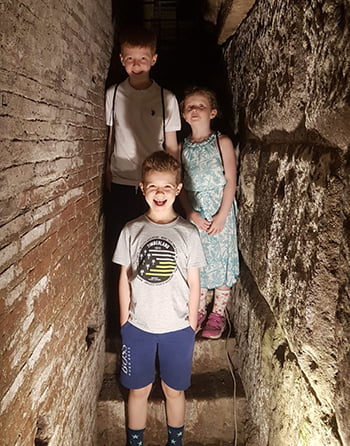 Along the way, you will find may interesting attractions that, should you choose to stop, could make you bike adventure a lot more interesting, and a great excuse to take a water break on a hot summer's day! Go underground and wander through the multiple layers of tunnels of the San Sebastian Catacombs and the San Callisto Catacombs just a few hundred meters further down the Appian Way (keep in mind that the San Callisto Catacombs are closed on Wednesdays and that the San Sebastian Catacombs are closed on Sundays), see the Tomb of Cecilia Metella, and enter some of the many churches lining the sides of this iconic road.
And if you plan on entering a church, remember to dress appropriately for the occasion – especially women! You need to cover your shoulders and décolleté and your knees!
One of the most important things that you should remember from thus blog post is that Sunday is the best day of the week to visit the Appian Way! This is because Monday through Saturday, the Appian Way is open to vehicular traffic, whereas on Sundays cars are not allowed onto the road.
Thus, riding on a bike becomes a lot safer for the little ones and stress-free for the adults in the family! If however, you are not able to slot the Appian Way bike ride into your Sunday morning or afternoon, because you already booked a tour, or simply because you won't be in Rome, do not hesitate to contact us, and we will organise the entire bike experience for you! In fact, traffic varies in different times of the year and is also largely dependent on local festivities.

Get crazy in some of Rome's most exciting amusement parks
Cinecittá World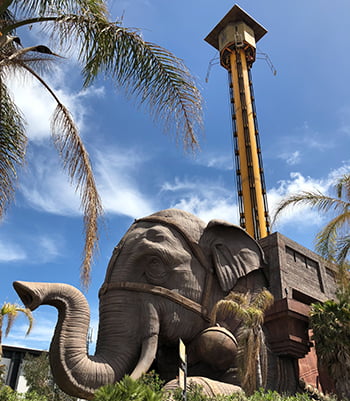 In a city that has inspired so many myths and movies in the past, the Eternal City couldn't possibly be without a theme park dedicated entirely to the cinematic realm! This is where Cinecittá world comes into play…Cinecittá world is a film and television-themed amusement park located just outside the city of Rome. The fun things to do while you are at Cinecittá are so many!
From virtual reality (VR) simulations, water rides, roller coasters, and many others, this magical place will bring to life the grandeur of Italian and worldwide cinematography, while giving you and your family a pleasant adrenaline rush!

Roma World
At the village of Roma World you will become a gladiator for the day! You will dress, sleep, and do the things a Gladiator would – from browsing around the stalls of Roman markets, running the Buggs, connecting with farm animals to seeing the flight of the tightly eagle and other prey birds. Additionally, if you are feeling courageous – or hungry – you can get the all you can eat ancient food ticket, which allows you to try ancient Roman foods (somewhat re-modernised, don't worry)!
Then, if you want to take it to the next level you can even choose to sleep in the equipped tented camp accommodation and spend the night under the stars like a real Gladiator would have in the glorious times of Ancient Rome.
Address: Via di Castel Romano, RM, Italy
Website: Roma World
Opening hours: 11am – 6pm (Thursday to Sunday)

Rainbow Magicland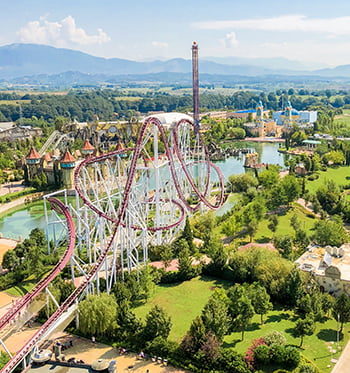 Rainbow Magicland is one of the most popular amusement parks in Italy! People come here from many parts of Italy to have fun and immerse themselves in a world where fairies and magical kingdoms are the main theme. This theme park, which includes 38 attractions and shows, will surely bring fun not just for the kids but also for the kids at heart!
One of the largest sections inspires the Medieval age, with a series of tournaments and games where the young knights battle for victory.
Address: Via Della Pace, 00038 Valmontone RM, Italy
Website: Rainbow Magicland
Opening hours: 10am – 6pm (daily)
Splash around and see enchanting animal shows in some of the best water parks
Hydromania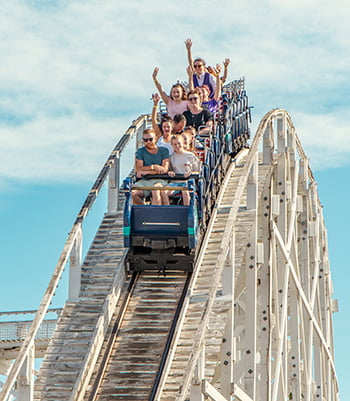 Hydromania is a wonderful, well equipped water park, located only 15km from the centre of Rome. So, on a hot summer's day in Italy, if you're feeling like you've seen enough history and art, unwinding at a water park and cooling off in one of the enormous pools might be the perfect option for you!
If the members of your family have divergent preferences when it comes to having fun in a water park, this is the perfect destination-getaway for you! In fact, you can easily alternate between relaxing in one of the pools and getting adrenaline rushes on one of the many attractions and water slides that the park has to offer. 
Address: Vicolo del Casale Lumbroso, 200, 00166 Roma RM, Italy
Website: Hydromania
Opening hours: Mon – Fri: 9:30am – 6:30pm; Sat – Sun: 9:30am – 7pm

Zoomarine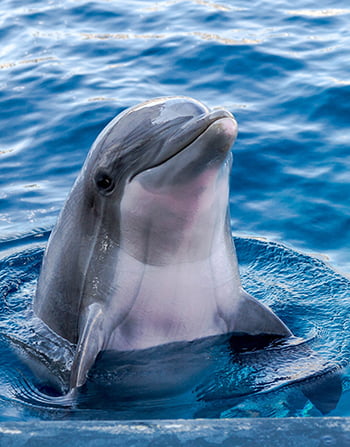 One of the most beloved Rome attractions for families is Zoomarine, a water amusement park that packs in excitement and educational experiences for all its guests. Big and small visitors alike can learn all about the many animals that live in the water park, see enchanting and engaging shows featuring sea lions, dolphins, penguins, and turtles! If your kids love animals, this is a definitely recommended stop for you and your family, especially if you are staying Rome for a few days and crave a break from the museums.For those who, at the end of the day, want to finish off with a little more excitement, there are numerous attractions: water slides, surfing areas, and even a few roller coasters and thrill rides. 
Address: Via dei Romagnoli, 00071 Torvaianica, Italy
Website: Zoomarine
Opening hours: Variable due to Covid

THINGS TO DO OUTSIDE WITH KIDS
Slurp a delicious Roman Gelato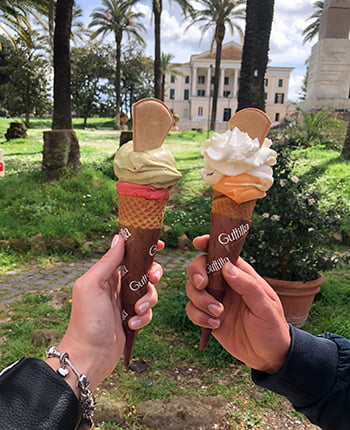 When the Italian sun is roaring and the cobble stones of the city are flaming hot, the best thing you can do is to find a spot in the shade, maybe in a quaint little square or in front of a less visited church to cool off and rest. Sounds like a plan! But now imagine doing this with a wonderfully ice cold gelato in your hand…now, that sounds like an even better plan! 
Although Italy is known for its incredible food, and desserts (including, and very importantly – tiramisú, pannacotta, babá), gelato is probably the most satisfying when the Roman heat starts knocking at your door. Check out the blog post we created listing the best gelato places in Rome and the reasons why you should choose them! 
Once you have read all our recommendations, it will be up to you to decide which one you prefer! 
Throw a coin into the Trevi Fountain in the hopes of finding your one true love (unless you already have one!)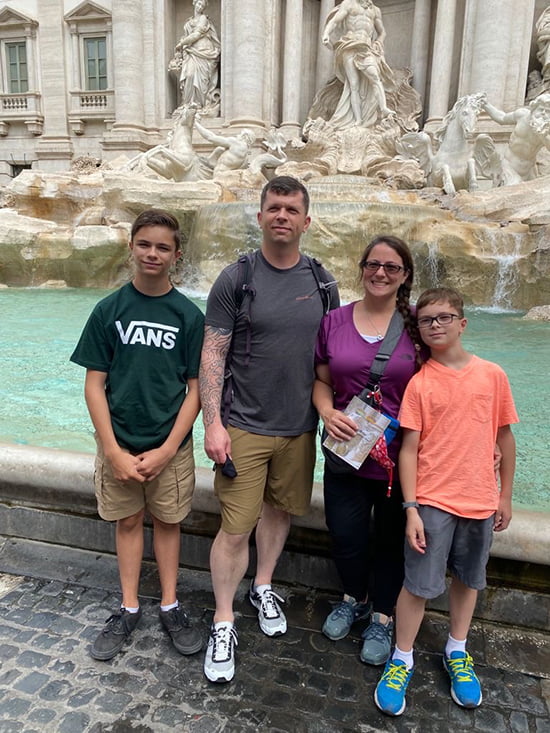 I'm guessing you've heard of the Trevi Fountain…a wonderful fountain carrying over 300,000 litres at any moment, with a flow rate of water to the jets of 150 litres a second! One of the most important things you will ever do on your magical Roman holiday will be tossing one, or more coins into the the Trevi Fountain, especially if you like Rome and wouldn't mind coming back sometime in the near future! 
Legend has it that tossing one coin into the Trevi Fountain means that you will be back to The Eternal City…tossing two coins means that you will be back and find love…and tossing three coins means that you will be back, find love, and get married! Be sure to use your right hand and toss over over left shoulder! 
It is crucial that, should you decide that you actually wouldn't mind some love and a shiny ring, you toss each extra coin in separately, and not all at once. 
This legend inspired Jean Negulesco's film Three coins in the Trevi Fountain. And do you know what all these coins are used for? 
The coins that are recovered from the fountain are donated to the Roman Caritas branch. On average, the fountain accumulates 3,000 Euros a day, but this is a rough estimate because people throw in coins of all currencies.

Take a day off from being a kid and become a valiant Roman gladiator for a few hours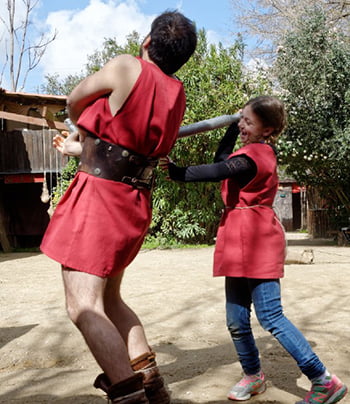 A fun activity for the little ones in the Ancient Rome is to act like Gladiators for a day! The Rome4Kids 'Gladiator for a Day' experience will allow you to embody one of the many fearless and powerful Roman gladiators! 
Travel back in time to the glorious times of Ancient Rome by experiencing this simulation of a real gladiator fight! This fun and exciting day will start with you and your little ones having to get out of your ordinary 20th Century tourist attire and put on a costume to fully immerse yourself into the gladiator world…
If safety is a concern of yours, don't worry, because there will be trainers to guide your kids and yourself through the experience, meanwhile making sure that it is done in all safety. This will guarantee to make the experience more relaxing for the grown-ups and as fun as it could ever be for the little ones. Not only will you get to dress like a gladiator, have a lesson of gladiator fighting and see a simulation of a gladiator fight…you will also learn many historical facts surrounding the life of gladiators! In fact, the Gladiator School hosts a large collection of ancient artefacts that used to belong to the Gladiators!
Head to our "Gladiator Training for a Day" page to learn more about the Gladiator experience.

Wander and get lost in the picturesque streets of Trastevere (and maybe even stop for gelato again!)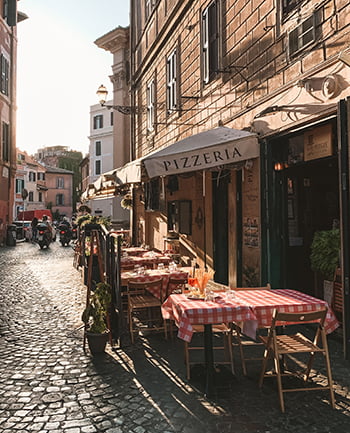 When trying to describe the perfect walk through the cute streets of Trastevere, it is hard to make a set itinerary or a small list of places to visit, because the entire neighbourhood is a wonderful mixture between an open air museum and the loud yet romantic character of the city! Strolling around the streets and landmarks of Trastevere is like discovering what Rome looked like a couple of centuries ago…narrow stone paved streets lined by medieval buildings! 
Via della Lungaretta, Vicolo dell'Atleta, Chiesa di San Francesco a Ripa, Via Titta Scarpetta, Basilica di Santa Cecilia, Basilica of Santa Maria in Trastevere, Vicolo della Luce — these are only some of the gems that you can find hidden in Trastevere. Trastevere is generally a safe neighbourhood, but beware of pickpockets, especially in the more crowded streets and squares! The name of the neighbourhood Trastevere comes from the Latin "trans Tiberim", literally "on the other side of the Tiber". 
It is not the most central part of Rome, as it is – indeed – on the other side of the river Tiber, but it is extremely energetic and hip among young people. 

Say hello to the kitty cats in the cat sanctuary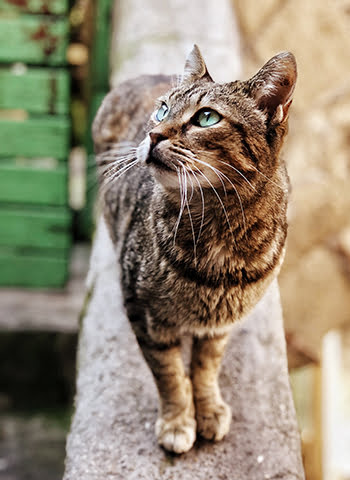 Have you ever heard of the colony of stray cats that lives in Largo di Torre Argentina? Well, there is a very large population of abandoned cats that began to make their home among the ruins of Largo Argentina after the excavations of the various archaeological sites commenced in 1929.  It is interesting to point out that Largo di Torre Argentina is a site of enormous archaeological importance, hosting many temples from the Roman Republic era, and part of Pompey's Theatre.
Historically, it is though that the assassination of Julius Caesar also took place in Largo Argentina in the year 44 BC. The main aim of the shelter is to sterilise the cats, Indeed, in the last decade, the shelter has been all to reach out to more than 27,000 felines in the last decade! If you're an expat looking to get a cat, or even a tourist wiling to bring a little feline home, this is the purrfect opportunity to get a pet!
Or, should you not be able to bring a pet home, you can even distance adopt, to help the shelter keep doing magic for all these kittens!

FUN THINGS TO DO WITH KIDS IN ROME
Join Pasta and Gelato Making Class for families with kids in Rome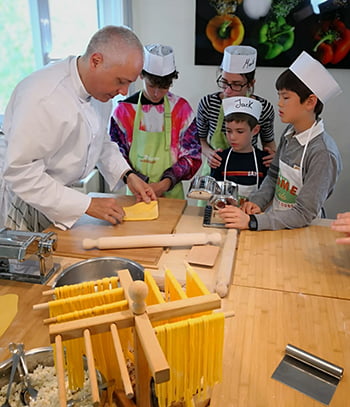 Ahhh..pasta!…and ohhh…gelato! What wonderful inventions! Two things that will never be missing on Italian tables!
Our Cooking Academy hosts an incredible Cooking Class where you can learn how to cook homemade pasta and a real artisanal Italian Gelato in one course. While the little ones can get crazy with making up unimaginable pasta shapes that have never existed before (and trust us – there are a lot of pasta types in this world!), the adults can relax and unwind with a glass of excellent Italian wine, letting the kid-friendly chef do al the entertaining for once! Could you imagine any better family activity in Rome than cooking together as a family?
Our Cooking Classes will also take you for a stroll through a real Roman food market, where you and your family will get a real local vibe and will choose the ingredients alongside the chef leading the class.
Not only will you learn to roll, shape and create the dough of the pasta into fettucine, ravioli or anything else you can imagine…you will also prepare one of the most loved desserts in our country: some authentic home-made gelato…and you will have fun in the process! Gelato doesn't really need an introduction.
You will also learn the exact procedure that allows you to create that very Italian pasta and gelato once you fly back home and want to show off all your newly acquired cooking skills with the neighbours and the family members you only see for Christmas and Thanksgiving!
Once you and your family have gotten your hands dirty, you can then sit down and enjoy the smells diffusing in the air, as the pasta sauce simmers in the pan and you very own home made pasta boils until becoming perfectly al-dente!  Then…and only then, do we get to the best part! You get to eat your mouth-watering creations…and you will thank us later! Buon appetito!
Take a mosaic and pottery workshop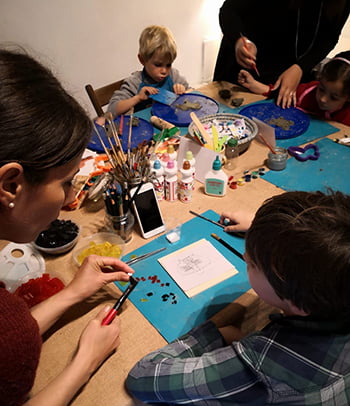 This is a 2-hour advanced course where you and your little ones are going to learn the ancient Roman technique of mosaic making. In our colourful workshop you will get to learn a 400 year old technique that the aristocrats of Ancient Rome used to decorate the pavements of their magnificent villas and houses, especially throughout the Roman Republic and later empire periods.
Archaeologists have argued that mosaics were actually invented by the Greeks, as the earliest tessellated mosaics were found in Delos and were dated back to the 2nd to early 1st-century BC. However, here in Rome we prefer to say that our ancestors did it, so please don't remind us about the archaeologists' opinions!
This class is all all about 'putting the pieces together' and 'looking at the bigger picture'. What better life skills could you teach your kids than these?
Roman mosaics are made up of geometrical blocks (called 'tesserae' in Latin), which are then placed together to create different shapes of patterns, mythological figures and motifs.
Your very own expert mosaic art teacher will teach you how to cut the pieces, how to paste them to the main frame, and overall how to plan out and complete the image that you have in your mind!
You can also work with clay to make your very own pottery creation! This will require you to get your hands a little dirtier but it is definitely worth it. Learn the art of using the pottery wheel and then paint and varnish your art piece!
You can then take your masterpiece home, hoping that it will fit into your suitcase! You might have to ask one of the kids to sit on the suitcase to zip it shut, if that is what it takes to be able to put the art piece over the fireplace in the living room! What a perfect memory of the amazing time you had in Rome!
Draw Roman sight on painting workshop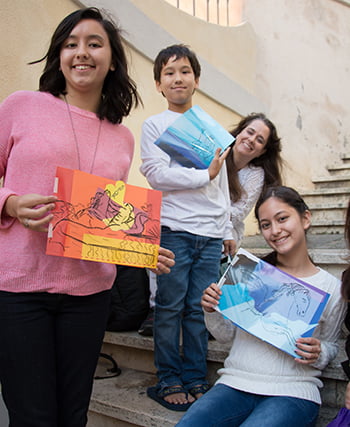 In English the word 'seeing' means "to perceive with the eyes; to discern visually." In Italian, this very word can be translated in two ways: either 'vedere' or 'guardare'. The first – 'vedere' – simply means seeing something, possibly involuntarily, without really paying attention to it.
On the other hand, the latter – 'guardare' – means analysing something and choosing to observe it carefully. Interestingly, the English language hasn't developed the depth that Italian has, in this circumstance!
This class, which takes you all over the Ancient centre of Rome to sketch, is all about 'guardare'…to notice, to observe, to capture…to truly "see"!
When you walk through the streets of Rome you appreciate the beautiful buildings, the interesting smells, the sight of people walking by and speaking in their wonderfully seducing Italian. Everything is fast-paced…everything is in motion.
However, when you actually stop for a minute, decide to sit down, and pay close attention to the shadows, the lines, the angles, the specific shades of colour to sketch what is in front of you — that is when you actually start "seeing" the city.
The class is a fantastic activity for families with kids in Rome! It isn't about the outcome of the drawing itself, although your teacher will definitely help you in your quest to put the beauties of Rome on paper!
You will get to choose from a range of techniques…from pencil to watercolours…you will be the master of your works of art!  From Castel sant'angelo, to Navona Square, or St Peter's, the tour will be adapted based off of your preferences, and all the materials will be provided. While you sketch and draw, your teacher will also teach you about the history and fun facts of the sites you stop at!
KIDS-FRIENDLY MUSEUM ACTIVITIES
Tour around the Colosseum and Roman Forum 
The Colosseum and Roman Forum need no introduction! Nothing screams *ROMAN HOLIDAY* louder than a lot of ancient ruins of what was once the heart of ancient Rome, and a giant theatre that used to host Gladiator fights!
But at times it is hard to give meaning to some old bricks and stones stuck together and some marble columns that lay on the dirt ground. This is where a tour guide steps in. You guide will bring these ruins to life! Where now you will see destruction, your tour guide will open your eyes to the greatness of what once stood in that same place.
Soon those bricks will look more like the remnants of a once great empire. Triumphal arches, temples, enormous thermal complexes once stood on this land.
The Roman Forum was the most celebrated meeting place in the world. People from all over the Roman Empire would meet here, and its size proves once more the impressive original state of the Roman Forum. This was essentially the commercial, religious and political centre of Roman life, the place to be seen and heard at the time, the playground of the Emperors!
Watch the video from our tour:

I spy with my little eye lots of treasures in the Vatican Museums!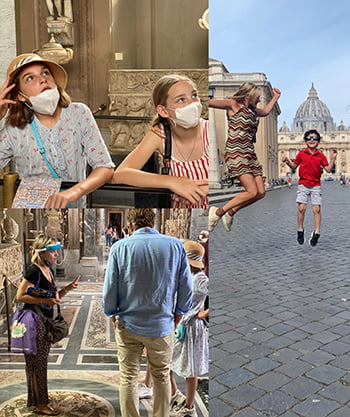 This incredible experience allows you to hunt for treasures all over the Vatican Museums. We have 2 types of hunts that you can choose from: "The Amazing Scavanger Hunt" for the little explorers – aged 3 to 6, and "The Divine Race of the Vatican" for kids – aged 6 to 12!
The object of the game is always to find as many of the items on the list as you can within the duration of the tour!
From the parent's point of view – trust us – there is no better way to go through the Vatican Museums than this. Your little ones will be so busy looking for a hidden animal, object or fantastical sea monster embedded the various paintings, sculptures and frescoes that line the rooms of the museums that there will be no time to be tired or get bored at any point!
Watch the video from our tours:
Climb St Peter's dome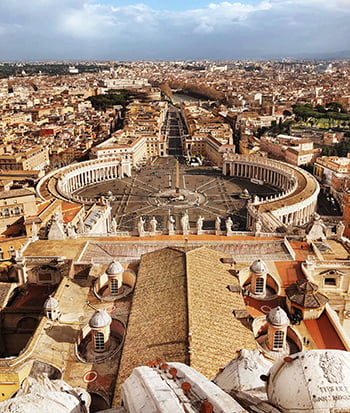 St Peter's Basilica is not one of the seven wonders of the world (in Italy – the Coliseum is!), but it definitely should be.
St. Peter's Basilica as a whole is considered worldwide to be one of the most magnificent churches in the world. It contains a plethora of beautiful artworks, sculptures and tombs that are definitely worth a visit, such as Michelangelo's famous Pietà! But just the dome itself deserves to be admired and visited!
The initial design was undertaken by the notorious Michelangelo, who worked on the basilica's construction starting in 1547. But, upon his death, Giacomo Della Porta took over the project of this incredible architectural wonder, completing the dome in the year 1590. For those who are young not only at heart, but with young muscles as well, you can climb the "Cupola" on foot, walking up its 320 steps! Otherwise, should you desire a more smooth and relaxing journey to the top, an elevator will be provided as well…
Regardless of how you reach the top, once you are up there you will realise that the journey was totally worth it! On top of the cupola –  136m above ground – you will have a bird's-eye panorama of the entire Vatican City and also a breathtaking view of the city of Rome.
Get creative at the Galleria Nazionale d'Arte Moderna (GNAM) 
The Gallerie Nazionale d'Arte Moderna (GNAM) is one of the most interesting and engaging museums to visit on your Rome family holiday! At the GMAN, you can join in on creative workshops called "Art and Seek". These workshops teach basic techniques for pencil drawing, as well as painting, college and sculpture techniques for those of you who are a little more adventurous when it comes to being artsy…The workshops are suitable for kids aged 5 to 7 (only with parents) and for those aged 8 to 12. Additionally, the little ones can take art in and enjoy some of the many fascinating exhibitions throughout the museum. 'Portraits and Identity', 'Colours and Emotions', 'Poetry and Art', and some other exhibitions .
The aim of these is to teach the little ones to observe how artists communicate these concepts, emotions and moods through colour, form and how to reflect on how artists capture places and experiences through certain techniques. Activities include drawing and writing.
Make science and history fun and the "Explora, Il Museo Dei Bambini"
The Museo dei Bambini (literally, the museum of the kids), is certainly one of the best destinations in Rome for families with kids! The peculiarity of this museum is that it makes science and history fun through games, workshops, puzzles, and many hands-on exhibitions! This large exhibition pavilion is equipped with a large green area with games, a kitchen dedicated to food education laboratories, a library and a shop with scientific games, a bar, a restaurant and a parking lot. The ground floor has the more permanent installations, such as the supermarket, the fire truck, the fountain, the Little Explorers area that is more suitable for children from 0 to 36 months. On the other hand, the first floor features temporary exhibitions and spaces for thematic workshops that are generally renewed every month or so! Keep in mind that the Explora museum is suitable for toddlers all the way up to 12-year-olds, so it isn't the most engaging solution for teens!
Have a peak at Leonardo da Vinci's incredible inventions 
Fun and educational — all at the same time! There is no better way to describe the Leonardo Da Vinci Museum…if you're a fan of mechanics, engineering and science, than this is the perfect museum for you! Whether you want to find shelter from a rainy day, or from the exhausting summer heat, this place is ideal to spend a few hours admiring the inventions of one of the most eclectic thinkers, painters, artists, scientists of all time.
Da Vinci was known for Centuries due to his paintings and sculptures in the Renaissance Era. One of his most famous paintings is the Baptism of Christ. His ingenuity in the fields of engineering and science remained hidden for many centuries. Indeed, his marvellous inventions and studies spanned from architecture, military engineering and strategy, music, anatomy, studies on mechanical flight, and even theatrical production!
In this wonderful museum, not only will you be able to see the sketches and the pictures of the original drawings that Da Vinci made of mechanical and anatomical nature…you can also interact with some prototypes that have been created on the basis of the drawings!
Should you visit the Leonardo Da Vinci Museum, you will be amazed by the creations of this genius, who, until his death was dedicated to designing machines that were aimed drastically improving the world as he knew it.
Explore an owl-themed fairy tale house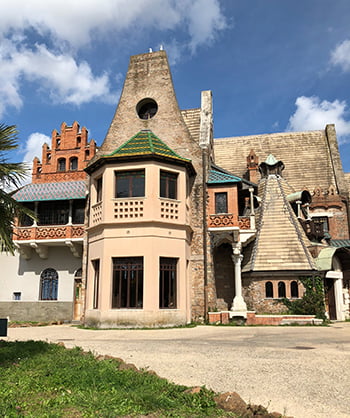 A very interesting Rome attraction for families with kids is Casina delle Civette, or rather in English "the little house of the owls", a particular and exciting building hidden away in the grounds of the beautiful Villa Torlonia! If you're tired of touristy groups, crowding around the most famous monuments and attractions, this is certainly a good alternative as it is to be found off the tourist trail!
Casina delle Civette is often described as being a remarkably unexpected building that very much resembled the art nouveau architectural style, and appears to have popped out of a fairytale.
The history of this place is also quite unusual! The building is embellished by romantic motifs of owls, swans and peacocks…which explains why it is called the little house of the owls! Colourful mosaics, stained glass, interesting ceramic tiles, and mullioned windows decorate the curious complex, which was commissioned by the Prince Alessandro Torlonia in 1840 as a "Swiss cabin", and then underwent significant structural changes over the years.
Then, in 1944, the buildings in Villa Torlonia were occupied by allied troops for three years, and, later on, in 1978 it was acquired by the City council of Rome, and today it  is a private park!
Technotown at Villa Torlonia 
One of the best things to do in Rome with kids is in Villa Torlonia — not too far from Casina delle Civette! Technotown is an unusual space where science and technology meet seamlessly! Coming here for the day is definitely a unique experience for children, teenagers and adults alike!
The museum is inside a medieval villa restored in the 90s.
The most popular children attractions are the 3D experiences, LED light painting; LEGO robot engineering, and the opportunity of playing with music or to time travel through virtual reality! Moreover, Technotown hosts many different special events and workshops throughout the year in which learning mixes with playfulness. Young and older guests can learn to engage with sophisticated technologies and use "media" in interactive and creative ways!
The museum is made up of 9 rooms, each room hosting a different experience. These experiences are suitable for 4 different ages, depending on the room: children aged 4 to 6, children aged 6 to 8, 8 years upwards, and even adults over 18!
Nine rooms therefore, with nine different experiences, within which young guests will learn to interact with sophisticated technologies and use "media" in a fun and creative way according to their age.
Technotown in fact has three courses: Junior, for children aged 4 to 6, Basic aimed at children aged 6 to 8, Educational from 8 years upwards and finally the Adult course dedicated to adults over 18.